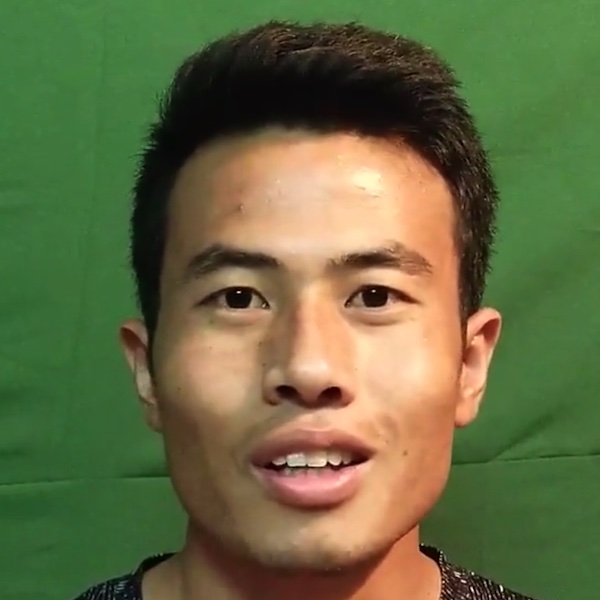 The movie "Ip Man 4"
Kinley's goosebump moment

The martial arts movie "Ip Man 4" – Kinley's GoosebumpMoment

Kinley: "I'm from Bhutan and my GoosebumpMoment was while watching the final combat of the "Ip Man4" movie, where Boyca fights with the Ip Man. If you have watched the Ip Man movie then you all might have got similar Goosebumps like me. Otherwise if you haven't heard about IpMan's movie, then I would recommend you watch it. IpMan's movie is all about a person who is famously known for his Chinese Martial art and who is said to be fighting for the justice in the IpMan's movie. He has cancer and his hand is injured but in that movie in the final combat he faces Boyca and Boyca is said to be one of the finest men who is fit and as good at Karate. In that movie, what makes the movie and the fight intense is the reason for their fight, and justice that Ip Man achieves at the final stage. So, this gave me a lot of Goosebumps by watching that movie. I enjoyed it a lot and if you haven't watched the "Ip Man 4″ movie, I would recommend you watch it. And if you have watched it then you might have got a similar Goosebumps like me. Thank you."

A legacy of martial arts
"Ip Man 4" marks a great legacy in martial arts cinema for most of its fans, in which it faithfully recounts the perhaps most emblematic Kung Fu master in this discipline and mentor of the remembered Bruce Lee.
It also shows us his most emotional side despite the choreographies with the actor who plays Bruce Lee and with Scott Adkins, which were well achieved. Without a doubt, a very worthy closing of a saga that began in 2008 with these four connected films and that never waned. Not only do they offer us unbeatable entertainment, but it also gives us Goosebumps.
A movie that topped the charts
On July 21, 2020, Netflix released "Ip Man 4: The Finale" (previously titled "Yip Man 4"), a martial arts film that immediately jumped to the top of the charts.
The story concerns the titular martial arts teacher (Donnie Yen) who travels to distant San Francisco with his son to help navigate some conflicts that have arisen between local martial arts masters.
The "Ip Man" franchise of quasi-biographical martial arts films began in 2008 with the Beijing debut of "Ip Man", a film with a laser focus on the life of Wing Chun Kung Fu practitioner and Bruce Lee's teacher, "Ip Man" , who lived in the cultural center of the Chinese martial arts scene in Foshan during the Sino-Japanese War. Actor Donnie Yen has played Ip Man in every film in the franchise, all directed by Chinese filmmaker Wilson Yip.
"Ip Man 2" (2010) follows Ip as he flees Japanese-occupied Foshan and performs with his family in Hong Kong, while "Ip Man 3" (2015) introduces Danny Chan's Bruce Lee, who travels to Hong Kong. to ask Master Ip for his tutelage.
"Ip Man 4" has been marketed as the final film in the Ip Man series, and is the first to follow its main character on a trip abroad to California, where his star student now resides.
Shortly after his wife's death, Master Ip receives a serious throat cancer diagnosis, no doubt the result of his lifelong smoking habit. Despite his poor health, Ip travels to San Francisco, where he discovers that his former student, Lee, has made big waves in the community with a Wing Chun school that he opens for non-Chinese.
Ip Man, better known as Yip Man
Yip Kai Man, better known as Ip Man, was a Chinese Wing chun martial artist, who was born in Foshan to a wealthy family on October 1, 1893. His most famous disciple was Bruce Lee.
Trained by Cha Wah-Shun, Ng Chung-Sok, and Leung Bik, he served as a police officer for much of his life. However, he lived in troubled times, faced the Second Sino-Japanese War (1937-45) and the Chinese Civil War (1927-50). The latter ended with the arrival of the communist party to power, for which Ip Man was forced to flee his homeland, after being stripped of all his fortune.
This is how he sought refuge in Hong Kong and became a full-time martial arts teacher.
He was Bruce Lee's teacher from 1954 to 1957, and in 1967 he founded the Hong Kong Ving Tsun Athletic Association. In 2002 the Yip Man Museum was opened in his hometown. Two films pay tribute to his career: "The Grandmaster" and "Ip Man: The Final Fight".
More about the movie "Ip Man 4":
Comments